The Kickstarter Launch of the World's First Portable Guitar, with the Technology of Original-Sound Recording has been officially announced. Let's meet the smart guitar with various built-in features like original recording, multi-play/rec, and Bluetooth paring. 
World's First Original-Sound Recording Tech
Don't worry about borrowing microphones and amps or renting recording studios anymore. You can record just your original sound without any background noises even in crowded places such as construction sites, beaches, town squares, and parks. The 32GB built-in memory is capable of storing up to 300 high-quality songs. If you want to edit recorded songs on the spot, simply connect the Type-C cable with your smartphone or computer, and download them for editing, copying, and sharing.
Simultaneously Record Playing & Singing
Mogabi has upgraded its hardware, letting you simultaneously record your singing and playing. By connecting your mic to the mic connection port, you can record your voice and guitar riffs at the same time. The most efficient Mic Pre-Amplifier, with no extra mixing work needed, is here.
Multi-Playing function
Playing a guitar solo is fun, but you may want to play in a group as well. Just use the Mix-Mode to play a duet or quartet with yourself! You can also use Mix-Mode to collaborate with artists from around the world. Try playing the guitar over an artists' MR using the Bluetooth pairing function. Mogabi let you be a WORLDWIDE guitarist!
The Advanced Multi-Recording Function
Mogabi upgraded its multi-recording function, as well as the multi-playing function. 
New Recording Cancellation Function
If you made a mistake, you can easily cancel the recording. Pressing on the 3rd nob will immediately cancel the recording, deleting unnecessary files and saving storage space.  
B/T Pairing Function
Mogabi guitar can be easily connected with other devices like computers and smartphones through B/T pairing. For traveling or camping, you can use Mogabi as an ordinary Bluetooth speaker, so you don't have to carry an extra speaker. 
The biggest advantage of B/T Pairing is the sharing function. Need to play a solo for your band, but don't have time to practice because of your business trip?.. Just play and record your songs separately to share with each other. You can listen to each other's songs and give feedback while playing together. 
High-Quality Powerful Sound
You might think that since Mogabi doesn't have a regular soundbox, it has poor sound quality. But Mogabi's built-in MCU chip maintains a stable sound balance and blasts its 40mm, full-range speakers, letting you busk without an amp. 
When you go camping or traveling, you may want a more powerful sound for outdoor performances. Just use the 3.5 to 5.5 line out port to create a fuller sound.
Two Different Head Shapes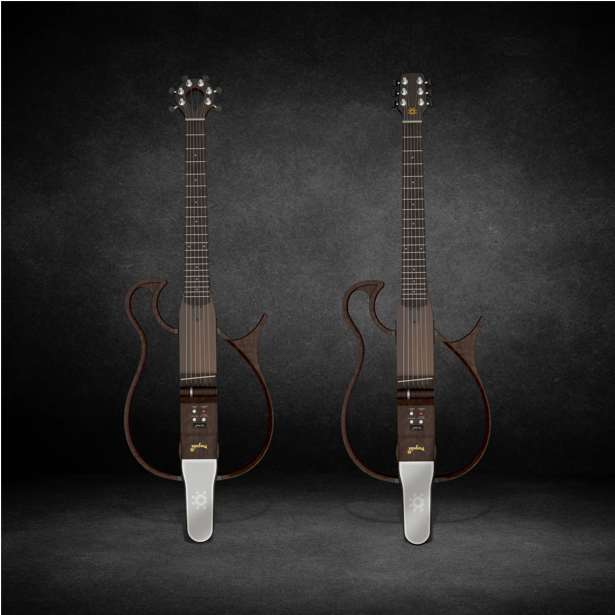 Mogabi provides buyers with two design choices for the headstock. Choose between a classic rectangular headstock, or Mogabi's unique round headstock. Shape matters, so select your favorite head. For more information check out here: https://www.kickstarter.com/projects/134517265/mogabi-portable-studio-and-original-sound-rec-folding-guitar?ref=dklcsr