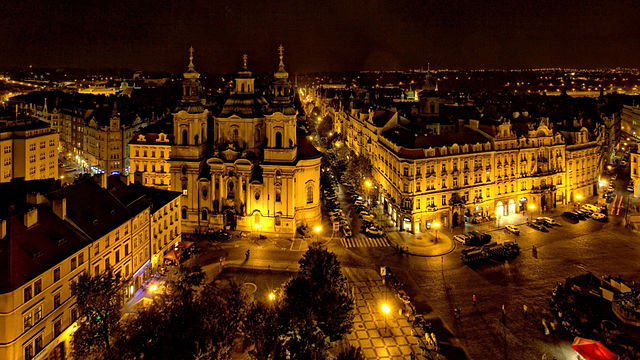 I have always felt that the very best time to understand what a city is all about, is after dark, when the sun stops shining, the people stop working, and fun is on the agenda. This was certainly the case for me last year when I spent 2 months in Prague, and found the nighttime activities to be very different indeed from those that went on during the day. Prague is a brilliant nighttime city with plenty of options for just about every type of traveler. If you are looking for an entertaining evening in the Czech capital, here are some ideas for you.
Charles Bridge 
This bridge in the center of Prague is a pretty iconic structure in the Golden City, and it is likely that you will already have passed over it. To visit the bridge at night however, opens up an entirely new view of the city. On the bridge you will find lots of street sellers and musicians, and from the bridge you will get to see one of the most amazing views of the city, illuminated for an extra special photo opportunity.
Karlovy Lazne
If you are really looking to let loose on your night in Prague, head to Karlovy Lezne, one of the most famous night spots in Europe. The reason for the fame of this club in not only the style of music that it plays or the fact that celebs from all over the world have graced this place with their presence, but also because it is situated in a historic building, which looks from the outside like a museum. Inside the original decor has been kept, with some modern twists made.
Music Park
Music Park is a nightclub with a huge dance floor, but beyond that, its similarities with a night club end there. This club has many rooms which branch off from the main dance floor, where you can taste local cuisine, and international cuisine options. Each room is categorized by country, and you can tour around and sample all manner of dishes and drinks, before cutting shapes on the dance floor.
Museum
Generally speaking you will find that museums are open until around 8pm, perhaps a little later on one set day per week, not so in Prague. Here in Prague the majority of museums are open all night long, which means that you can head there late, for a chance to get the place all to yourself. Night events in museums often take place too, with drama, exhibitions and music events a regular occurrence, the best part is that these events are usually free.
Old Town
If you are looking to relax on an evening, with some local cuisine and some freshly brewed beer, head to the Old Town. The pace of life remains the same in the Old Town, whether it is day or night, and you can count on enjoying your evening in peace and comfort, watching the world go by from one of the many restaurants and taverns.
Prague is a great nighttime city which you will absolutely love.