Jewelry Items 
Jewelry items can help to enhance and beautify the wardrobe of any person. These items help to show off personal style and make a first impression. They also perfectly complement other fashion pieces like dresses, skirts, suits, pants, tops, handbags, and shoes. Jewelry items can be worn on the ears, on the arm/ wrist, around the neck, around the finger, and even on the ankle or toe.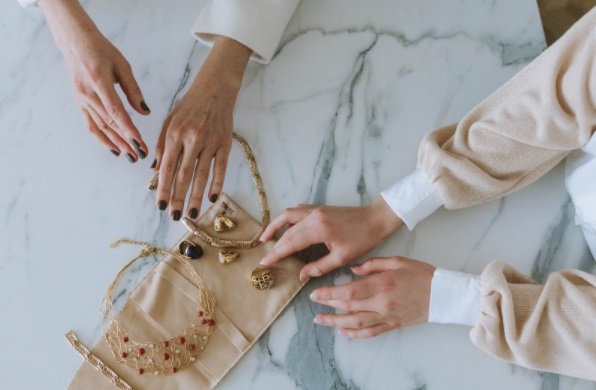 Where to Wear Jewelry 
Jewelry items can be worn in casual settings, professional settings, and formal settings. Different jewelry pieces can be worn to work, on the go, to cocktail parties, or for other occasions. It is important to distinguish between casual pieces and luxury jewelry items when matching accessories to different outfits. It is also important to pay attention to the color of a piece, the size of a piece, and the value of a piece when you are deciding where to go while wearing it. At least one type of jewelry can be worn in any given situation.
Different occasions often require different outfits and accessories. These occasions include business meetings, cocktail parties, and dinners. These 7 jewelry pieces are important to have on hand. When selected and styled correctly, these types of accessories will suit any occasion. 
1. A Pair of Earrings
There a variety of different types of earrings. Stud earrings can be more subtle or make a statement, depending on their size. Diamond or faux diamond studs can make a bold first impression when worn by women or men. Pearl earrings are another great earring option. Pearl earrings give an air of timeless elegance and classic style. 
Other types of earrings include dangling earrings and hoop earrings. Earrings might be solid gold, gold plated, solid silver, silver-plated, or made of other metals. Earrings can be bold and colorful or subtle and shiny. 
2. A Bracelet
Bracelet types can vary from casual wristbands to elegant tennis bracelets. Bracelets made of leather, canvas, cotton, or nylon are often worn for casual and informal occasions. For formal occasions, gold, silver, and crystal bracelets might be preferred. Bracelets can match jeans and tee shirts, athletic wear, business suits, or even gowns. A bracelet is a smart choice for any person looking for jewelry that can be worn on any occasion. 
3. A Necklace
Necklaces have been worn throughout history to show status and hold the sentiment. As fashion has developed, many different types of necklaces have been created. Pendant necklaces feature a chain or cord with a hanging stone or object suspended from the center. Choker necklace wraps more tightly around the neck, like collars. Gold chains are popular for both men and women. Necklaces made of finer materials are generally the best to purchase. 
4. A Ring
If you are married or engaged, you probably already have a beautiful ring you can wear every day. If you are not married or engaged, you can still wear a ring as a beautiful statement fashion accessory. Rings come in different sizes to perfectly fit the fingers of different people. They can be simple bands made of silver or gold or feature large set stones like diamonds, rubies, or sapphires. 
Rings can be worn on the ring finger, but they can also be worn on any other finger-like the pinky or middle finger. Multiple rings can also be worn at once for an added statement. 
5. A Watch
The watches are both functional and beautiful. Watches can be worn for casual occasions like shopping trips and brunches, but they can also be worn for interviews and formal business meetings. Wearing a watch allows you to easily check the time without looking at your phone or a clock. Watches give off an air of class and professionalism when worn correctly. 
6. An Anklet 
You may wish to switch up your style with fun and funky accessories on more daring occasions. An anklet is a great accessory to add to your wardrobe for an occasion like a pool party, cruise, or vacation. Anklets generally are best worn for casual occasions only and not for formal or business occasions. 
7. A Toe Ring 
Toe rings are similar to anklets when it comes to the occasions that are appropriate for wearing them. Toe rings are fun to wear with flip-flops, sandals, or bare feet. They should not be worn for professional or formal occasions. Toe rings are fun to wear in the summer for occasions like beach days, pool parties, cruises, and vacations. They can be styled with swimsuits and sarongs, shorts, or casual short dress styles.