Let's face it, no matter how good you are at eating right and healthy sometimes you can have your moments when you are craving something sweet. While you could turn to a bag of chips or a handful of crackers, eating processed, fatty and sugary snacks eventually decrease your energy, leaving you feeling sluggish.
Snacking on the right foods might help to fight hunger, fill up on nutrients, supercharge your body, and keep you from being moody within a day. Additionally, healthy options don't have to be boring; they can be delicious, nourishing, and satisfying as well. Whenever you are bored or overly hungry consider incorporating the following snacks into your daily nutrition to feel and look good, and keep your body fueled. Let's shed light to seven healthy and tasty snacks ideas that you can treat yourself with and won't feel guilty about eating them.
Trail Mix
The trail mix is a combination of energy-dense ingredients like granola, dried fruit, nuts, seeds, and sometimes chocolate. Not only it's a delicious snack, but it also a mix of flavours and textures that packs quite a punch nutritionally. There are different types of trail mixes you can purchase at your local grocery store. However, you can easily make your own trail mix at home.
Take some of your favourite food products for a perfect healthy snack such as raw nuts (almonds, walnuts, pistachios, cashews, or peanuts), raw seeds (pumpkin or sunflower seeds), dried fruit (mangoes, raisins, cranberries, dates, or apricots), and other components of your choice (coconut flakes, popcorn, roasted chickpeas, or spices).
Furthermore, trail mix is a portable product, making a great snack option during commuting and for on-the-go.
Smoothies
Smoothies are one of the healthiest snacks, easy and so much fun to make. This snack option gives you the freedom to choose your favourite healthy foods that you know and love. In fact, smoothies are guaranteed to help you stay full and will make your body happy with all the healthy ingredients you are consuming.
With fruit like apples, mangoes, bananas, apples, and grapefruits, you can create all kinds of tropical-themed smoothies. They are tasty and include a powerful punch of natural useful sugars and vitamins.
To make your own smoothie, whip up 2 or 3 fruits and veggies that you love and mix with some yoghurt and ice. In case you are too busy to make a homemade smoothie, search for smoothie shops around you so you can just order and enjoy this healthy snack.
CBD Gummies
Natural CBD gummies are a daily supplement you can actually feel good about. CBD and gummies are a perfect mix for an enjoyable time while getting health benefits. The best part is that CBD gummies look like candy, taste like a treat, and include consistent dosage in each gummy.
Since cannabidiol (or simply CBD) is an active and potent compound that is known for its potential advantages, it can help you to improve physical and mental health as well as overall emotional wellbeing. CBD is able to help relieve stress, anxiety, pain, and extreme inflammation, regulate sleep, activate focus and concentration.
CBD market offers many healthy options of CBD infused gummies that are sugar-free and rich in natural components and fruit juices. What's more, there are also a vast amount of available healthy snacks such as CBD protein bars, dark chocolate, crackers, and more.
Baked Sweet Potato Fries
Despite the season, sweet potatoes are always a versatile and healthy option that is rich in fibre and nutrients, including beta-carotene, antioxidants, vitamins A and C.
Сhips made from sweet potatoes can be a good replacement to greasy fried potato chips. To make a healthy snack, cut up to four sweet potatoes into 1-inch-wide wedges, put flesh-side down on a roasting pan, and preheat the oven to 425 degrees. Then brush potatoes with a mixture of 1/2 teaspoons chilli powder, two tablespoons olive oil, and one teaspoon kosher salt.
Alternatively, you can prepare sweet potato chips in your microwave. To do that, slice one large sweet potato, mist slices with olive oil and malt vinegar, and sprinkle with kosher salt. Keep in mind:  the exact time of cooking will depend on the strength of your microwave, but you can start with three minutes or even less.
Frozen Yoghurt Bites
If you are a sweet tooth and find yourself craving sugary snacks during a day, why not to switch to healthy options? Frozen yoghurt bites are not only delicious, but such a refreshing snack can also get you through the day, especially a hot one.
All you need for this healthy snack is fruit and yoghurt. Mash up chosen fruit with a fork and combine it with the yoghurt. Put the mixture in an ice cube tray and freeze overnight.
Eggs & Toast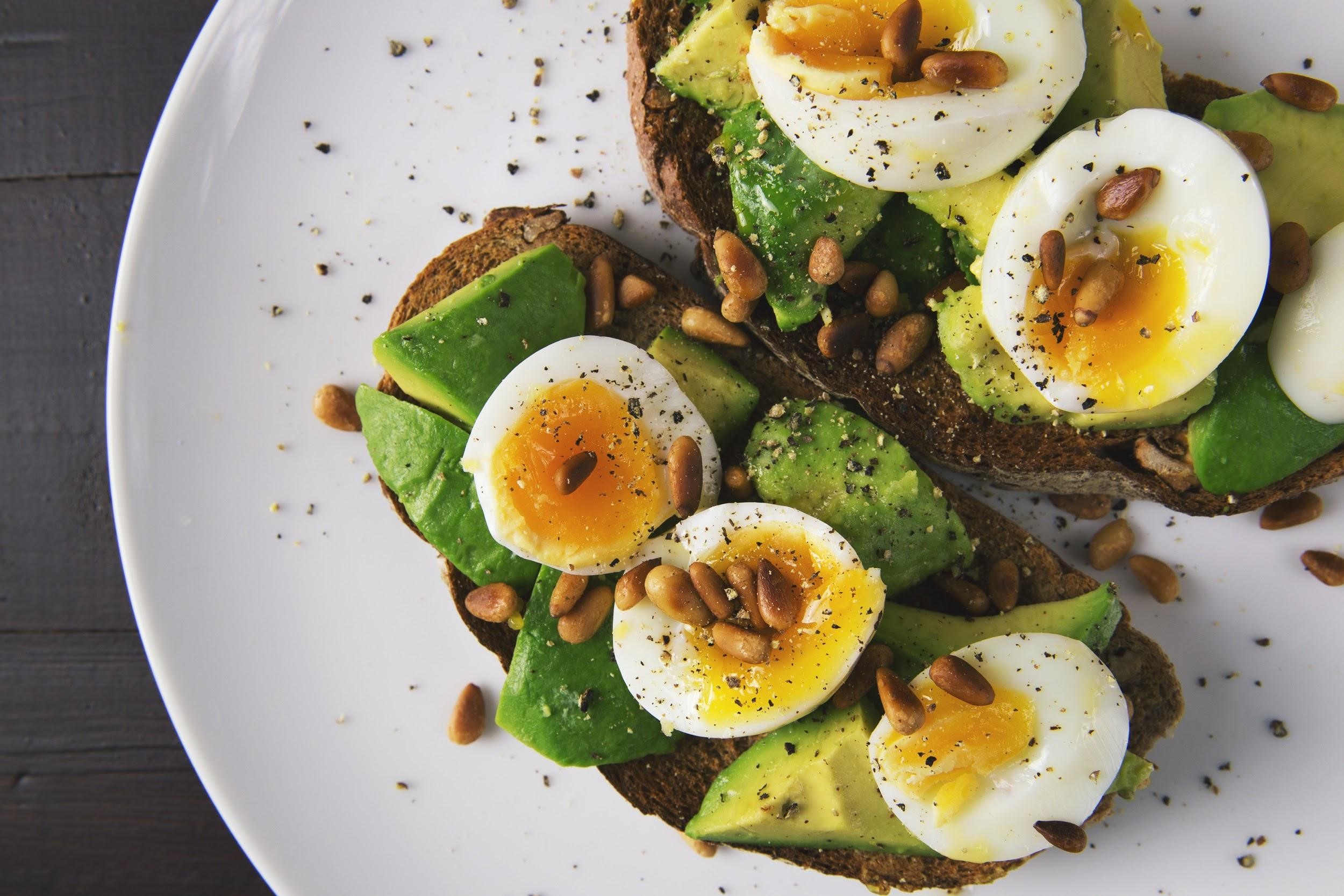 Eggs and toast option sounds simple on the first sight, but this snack can involve various tasty and nutritious ingredients as well. It's a yummy and easy way to jazz up your snack that is ready in just minutes.
To make hearty bread, toast it and then top with mashed avocado, a fried egg, and tomatoes – the possible options are endless with this snack!
You can even make a little egg salad with ingredients like leafy greens, a few essential spices, red onions, chopped parsley, and a handful of chives. Blend all components altogether, and you have got a healthy egg salad to add and spice up the toast base.
Hard-boiled eggs might be an easier alternative. A single large egg is loaded with protein, vitamin A, B6, B12, C, and D, calcium, iron, and magnesium.
Cinnamon-Spiced Baked Apples
Thinly sliced apple is a quick, healthy, and sweet, crunchy snack. Cut an apple and place the wedges in a microwave-safe bowl. Mix a teaspoon of brown sugar and a pinch of cinnamon with nutmeg, then sprinkle apple slices with this blend. Cook for 3 to 4 minutes on high temperature and add raisins or a dollop of nut butter after the slices cook.
This high-fibre sugar snack can help to fight your hunger cravings and energize you. It's also tasty as any peanut butter with a sandwich. Create a bit of variety by mixing and matching with other nut butteries.